DATA-DRIVEN CARE DELIVERY PLATFORM
Add custom analytics, patient engagement, population health, and care coordination to your MU Certified EHR.
Medigy improves care delivery and decision making by identifying care gaps using well established condition-, treatment-, and demography-specific protocols.
Planning medical diagnosis and treatment has always been complex. Consider the variables:
The huge volume of medical data captured from patient visits at different points of care.
Move patients to different facilities and locations.
Add more than one condition at a time.
Add changing treatment standards and protocols.
Is there any surprise that data gaps, conflicts and duplications occur? Or that there are differences between treatment provided and industry-standard guidelines?
There's a need for a system that:
Integrates and processes static data (insurance claims, clinical, pharmacy and biographical data) with real-time information (EHR and browser application data).
Compares diagnosis and treatment data with well-established standards of care.
Describes which guideline steps were omitted, altered or rearranged and why it happened.
Makes it easier to get insights from raw data captured from procedures, lab tests and a large number of other events associated with a patient.
Links specific types of care to specific patient outcomes.
The Netspective™ Medigy® framework enables healthcare providers and administrators to support and accelerate all of these processes across medical conditions, locations and types of treatment.
Netspective Medigy is a framework built specifically to support enterprise healthcare and medical informatics applications. Medigy provides healthcare IT professionals, independent software vendors, consultants, and systems integrators with tools that simplify the development of healthcare applications.
We built Medigy as an electronic health record (EHR) add-on. Medigy provides the platform, applications and services that you need to monitor and coordinate treatment of patients across different treatments, locations and healthcare systems.
Medigy enables healthcare providers to:
Add customized data analytics, patient engagement, population health, and care coordination data to any MU-certified EHR.

Make better diagnostic and treatment decisions by having access to context-sensitive clinical evidence for different patient groups.

Improve healthcare delivery by using well-established, condition-based protocols to find gaps in patient care.

Secure HIPAA, ARRA, NIST and RCM compliance processes.
Use Medigy to:
Collect EHR data in a centralized clinical data repository.

Personalize care by adding patient location, condition or treatment information.

Track patient metrics and monitor quality scores across healthcare systems.

Add genetic information and data from devices and wearables into patient EHRs.

Promote Patient Activation.
Platform

Data Aggregation, Processing and Harmonization
Predictive Analysis Tools
Rule Engines
Process Management
Natural Language Processing and Machine Learning
Big Data infrastructure
Apps

Multi-device dashboard
Alert Notifications
Analytics & reporting Healthcare assessment and management plans, checklists, protocols, processes etc.
Professional Services

Secure Social Patient Relationship Management
Patient Education, Calculators, Widgets, Content Management
E-commerce, Ads, Subscriptions, and Activity-based Billing
API Services
Reporting, Alerting, Complex Event Processing, and Analytics Engine
Data Visualization
Security Risk Assessmen
Clinical Services

Care Coordination
Care Standardization
Care Plan and Clinical Protocol Manager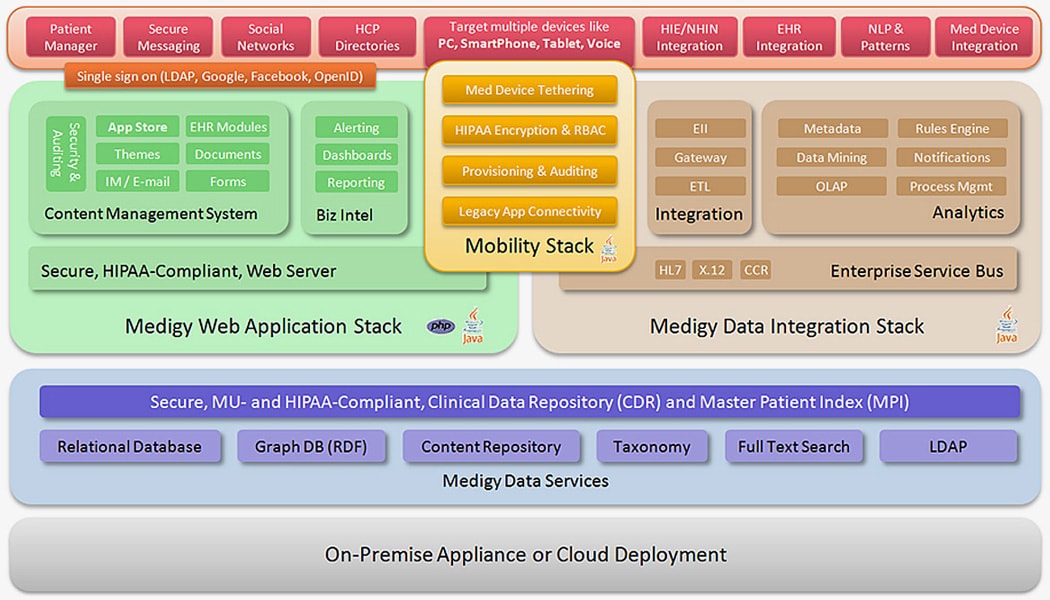 Medigy is built on a secure, HIPAA-compliant, Meaningful Use certifiable, open source foundation that can support any innovative healthcare application you're thinking of deploying. The platform can support any healthcare application you can design and deploy. And, it can integrate with EHR systems, hospital applications, patient management systems, content management systems, and dozens of other healthcare IT platforms and applications
The platform includes a robust set of EHR modules, a sophisticated open source data integration layer with complex event management capabilities, a terabyte-scale data management infrastructure, a modern mobile apps enablement layer, and the world's most heavily used content management framework. You can use its scalable, open source packages throughout the stack to help you save licensing costs and avoid paying success taxes.
Consolidate & Aggregate EHR Data

Real-time Data Collector: Real-time data collector collects context sensitive real time data. There are mainly two types of real time data collector agents

Care Coordination Agents / Plug-in for EMR: The real time data collector agent(s) are installed in commercial EHRs where care is received. These agents pull the context–sensitive real time data from these systems and sends them to Medigy.
Care Coordination User Agent tool bars / extensions: The user agents are similar to the Care Coordination agents but instead of installing it in the EMR applications, this will be installed in the browsers on machines.

Non real time Data Collector: The non real time data collector collects passive data such as Claims data, Health Information Exchange Data, Bio Informatics data, Clinical Data etc. This kind of data can be collected in batches through scheduled jobs and will be stored into Medigy for processing. These agents can be APIs, Information Exchange Hubs / interfaces etc. The data can be in different formats such as LOINC, SNOMED, RxNorms, NANDA, etc.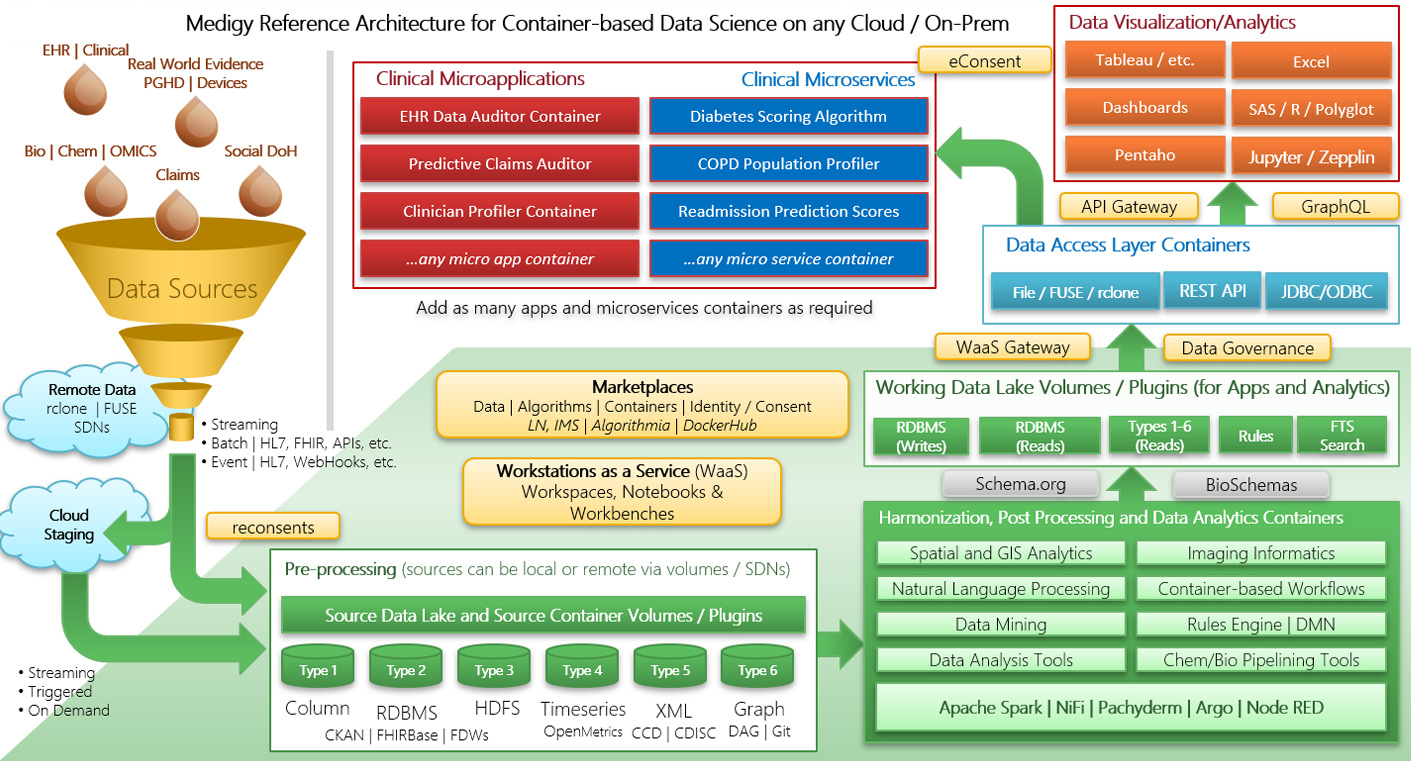 **Data Aggregator and Processor**
Analyzes incoming information from static and real-time data sources.
Extracts data accurately and reliably.
Formats data into consistent information by transforming and cross-mapping it with ontological standards.
Processes data for risk profiles by creating marts and cubes.
Data Storage
Stores data collected from real-time and non-real time data sources.
Uses Lambda Architecture to handle massive quantities of data in batch processing mode and real-time streams for urgent review.
Supports multiple types of data storage models (such as relational databases, column stores, and Hadoop-like storage)
Applications
Uses incoming data for predictive analytics, disease and population profiling and data auditing
Manage Populations across Boundaries
Population Health Management (PHM) focuses on improving the health of defined groups of individuals by the proactive application of strategies and interventions in order to deliver care in a secure, cost effective and clinically effective manner. Large amounts of data are available to hospitals and other healthcare systems. However, providing value to the data and making it available and accessible to physicians at the point of care is key to delivering real time information powered care.
Medigy functions as an EHR add-on leveraging data to redesign care. It helps power clinical decisions to advance patient outcomes, improve quality, and lower costs.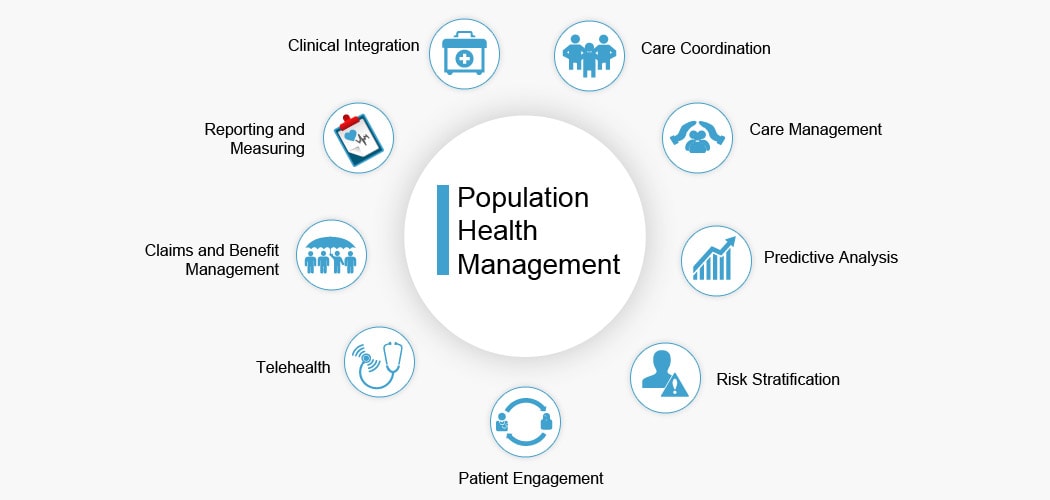 Medigy facilitates PHM by making data accessible to physicians at the point of care. Use Medigy to:
Provide a better understanding of patient care.Provide valuable insights using the data collected from various real time and non real time sources such as EHR, claims, HIE, lab results, marketing data, bioinformatics, medications, health risk assessment responses etc. All collected data is available real time for faster decision making.

Identify and reconcile conflicts, duplications and inaccuracies of data collected from various data sources having different data formats.

Provide aggregated information about care services received outside the PHM network, referral sources to out-of-network services and cost savings opportunities for in-network care.

Identify high-risk cohorts with negative health outcomes and alert stakeholders when the risk is identified. Rank high-risk groups by payers, providers, risk level etc.

View user-friendly data visualizations of all types of healthcare data.

Get a better understanding of patient healthcare costs. You can compare patient or cohort costs of care with those of similar peers. And advanced data analysis can predict patients or cohorts, whose costs are likely to increase.

Track specific health goals set by patients or physicians.

Encourage patients to participate actively in their healthcare plans.

Coordinate patient healthcare. Medigy notifies healthcare providers of critical changes in patient condition in real time. With Medigy, you can reconcile medications during changes in care. Use Medigy to coordinate and implement clinical workflows and define the roles and responsibilities of physicians involved in the care plan.

Support pharmacy workflows. Track and visualize medication use and trigger appropriate notifications.

Provide well-defined treatment plans, which can be viewed by anyone engaged in treating the patient. Medigy provides the ability to override the defined protocols based on patient specific treatments.

Track cohorts over time to watch for improvements in care outcomes.
Coordinate Care across Health Systems
Healthcare providers are using ever-growing volumes of data to understand how they can use this information to improve patient outcomes.
With patient data collected at various points of care, there's a lot of information available for analysis. When collected from various sources, this data must be aggregated and reconciled to identify gaps, duplications and conflicts. When data is harmonized, it can be used to improve healthcare coordination and standardization.
Use Medigy Care Coordination Services to:
Identify data duplications and gaps, treatment conflicts and drug interactions described in standard clinical protocols. Compare patient treatment events with those recommended in clinical guidelines. Discover and classify gaps in care. Collect care gap information across a population of patients and use data visualization tools to make clinical interpretation easier.

Identify conditions that would benefit from early intervention by using real-time and non-real time data collected from different sources.

Coordinate care for patients with more than one disease or condition. Manage episodic and chronic care across patient populations and provide long-term support services.

Support wellness education and facilitate faster decision making by providing access to a knowledge base of evidence.
Track Metrics & Quality Scores
Effective data capture and analytics are vital to predicting chances of illness, preventing hospitalization, reducing the rate of re-admissions and ensuring high-quality care. By connecting to your EHR and other clinical systems, Medigy uses the data from these systems to measure differences from standard clinical guidelines and provides preventive care information. Medigy predictive analytics identify patients or groups of patients who are prone to illness and might need care early on.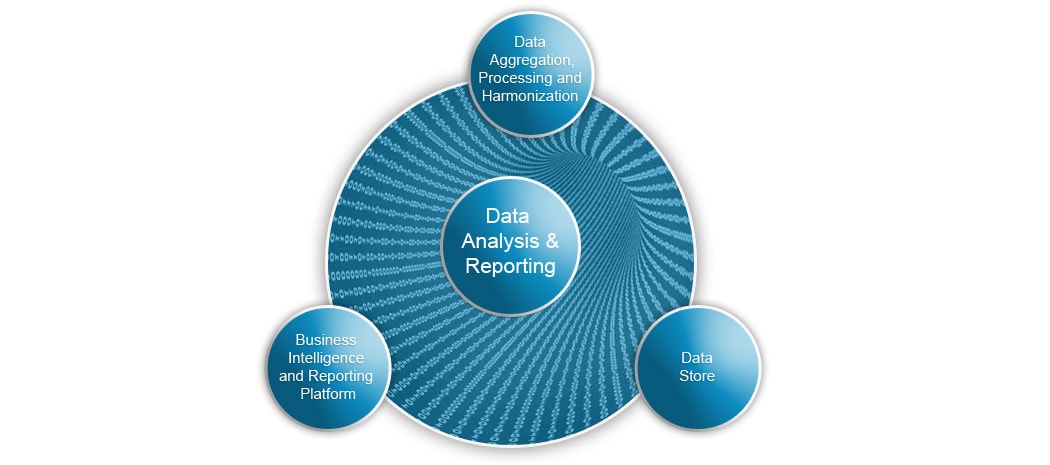 Medigy can help ACOs track quality metrics and improve quality scores.
You can use Medigy to:
Determine if patients get timely care and appointments by using data collected from point of care and other systems.

Promote patient health education by creating a knowledgebase of resources available to patients and clinicians.

Help patients and caregivers work together. to create an effective patient healthcare plan.

Better understand patient re-admission rates. Track patient re-admissions by using clinical notes and discharge summaries. This approach helps identify gaps in care, inadequate discharge planning and sub-standard care.

Treat conditions such as asthma and COPD in an outpatient setting. In outpatient settings, patients with these conditions often don't get the right treatment. Medigy helps tracks deviations from care adherence in outpatient settings thereby preventing unnecessary hospital admissions.

Make it easier to follow clinical guidelines. Medigy monitors for diseases, reduces medication errors and supports better clinical decisions.

Create and maintain medication lists. Create a full list of prescription, over-the-counter and herbal medications. Medigy monitors whether patients take medicines as prescribed. If anything has been missed, it can send alerts to caregivers.

Promote preventive care. For example, you can identify older people who are at risk of falling by tracking balance and gait metrics and alerting physicians for timely intervention.
Integrate Genetic Information
Genetics holds the promise of healthcare providers finding out which drug is the most effective for each patient and each condition. However, current EHR systems cannot handle genetic information, as well as data standards, security, privacy or scalability. So, there are many problems that must be solved before genomic information can used in medical treatment.

However, Medigy can address some of these problems by:
Providing secure access to genomic information Because Medigy is an accessory for every MU-compliant, EHR system, it's easy to add it to your system.

Getting access to a huge library of genotypic and phenotypic information, which physicians can use to learn about diseases, provide effective treatments and optimize patient reactions to drugs.

Processing unstructured genomic data and integrate it. with existing healthcare information. Medigy uses machine learning and natural language processing to process unstructured genomic data and integrate it with existing healthcare data to provide insights into the data.

Using SMART on FHIR to retrieve specific clinical data. exposed through FHIR data layer APIs and making it available to the EHR system.

Measuring healthcare compliance. Medigy enables healthcare providers to set up plans, which track how well patients follow specific instructions.
Medical Devices and Wearables Data Integration
Understanding patient behavior plays a major role in improving patient health. This is especially true when providers manage chronic conditions that occur due to unhealthy lifestyles. Wearable devices such as blood pressure sensors enable constant data collection and monitoring of patient health. By using wearables to collect data over time, physicians can better understand patient behavior and its connection to patient health.
Patients are usually diagnosed with a medical history—their own story of diseases, symptoms and conditions. Data from wearable devices can provide additional information, which helps diagnose the patient's condition better and provide a more appropriate treatment.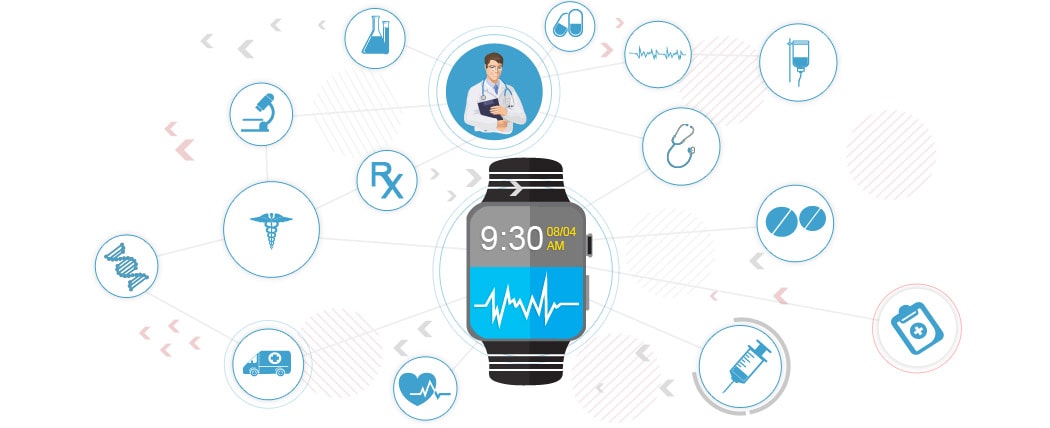 Wearable devices include:
FDA-regulated medical devices operated by physicians and care delivery organizations (CDOs).
Unregulated medical devices operated by clinicians and CDOs.
FDA-regulated consumer medical devicesoperated by patients (insulin pumps worn on the body).
Unregulated consumer wearables operated by patients.Unregulated devices are usually wellness tracking devices. Their use focuses mainly on encouraging a healthy lifestyle rather than curing or treating specific illnesses. The Medigy platform collects data from wellness and regulated devices to improve patient outcomes.
You can use Medigy to:
Promote early intervention. With healthcare costs on the rise, unnecessary hospital visits can be avoided with early intervention.

Measure patient compliance, Using data from wearable devices, Medigy can be used to measure the adherence of patients with their care regimen in terms of calorie intake, exercises done etc.

Document conditions, alert caregivers and collect datafrom wearable devices. You can process and adapt data to the needs to the EHR system that receives it.

Capturing context-sensitive information from wearable devices This includes device settings and user input, which provides extra information to receiving EHR systems.

Support several devices by converting data collected in one format to other formats required by several downstream systems.
What's patient activation? It's about energizing patients and getting them to play an active role in their own healthcare. It's an approach that goes a long way to reduce hospital visits and prevent health problems.
Who are activated patients? Examples of activated patients: patients who are aware of health problems, follow through on healthcare plans and prescriptions and adjust their lifestyles based on their health conditions.
Why bother? Studies show that highly activated patients get better care. They communicate with their healthcare providers more effectively. There's a lower chance of their experiencing medical errors. Their care is better coordinated. And they are the most satisfied with their healthcare system.
Why aren't patients engaged? Modern healthcare is complex. Many patients don't understand even basic healthcare information. And often, patients don't understand their condition.
Many healthcare providers don't educate their patients so they can make informed decisions about treatment and care. Even if providers try to inform patients, many get overwhelmed and fail to follow even simple instructions.

It's possible to improve patient activation levels. But to do it, healthcare systems must provide patients with better support and communicate healthcare information more effectively. Medigy enables better patient activation. It provides tools and access to healthcare information that improves communication and outcomes and reduces healthcare costs.
Use Medigy to:
Fill gaps in patient knowledge. The huge Medigy knowledgebase of medical information can answer patient questions and concerns.

Provide easy-to-use checklists. Patients who take an active part in their healthcare can follow every step of their care plan and maintain healthy lifestyles. Patients with chronic illnesses can use checklists to follow their healthcare plan.

Improve care coordination among healthcare providers. Coordination improves the patient experience and increases patients' confidence in the healthcare system.

Send alerts and notifications to healthcare providers. When drug contraindications or drug reactions occur, alerts improve communications between patients and caregivers.

Measure and track patient improvements. This practice makes it easier to score patient activation status.

Ensure patient data security and privacy. The Medigy platform and its connections are built to be available, secure and reliable.
Data-Driven decision making in Healthcare
There's no lack of data in modern healthcare. But your healthcare system probably has many obstacles to using data effectively and improving patient outcomes.
Start with technology issues such as lack of proper tools, disparate data sources and the need for high-speed, high-volume data analytics. Then add factors such as the lack of advanced workforce skills and your organizational culture. All of these problems can limit your ability to help your patients and help you run your healthcare system more efficiently.
Healthcare Data for Better Decision Making
Netspective™ Medigy®, our healthcare data framework, helps you overcome these and other data-related issues. We designed Medigy to help healthcare professionals and organizations use their clinical and operations data to make better decisions.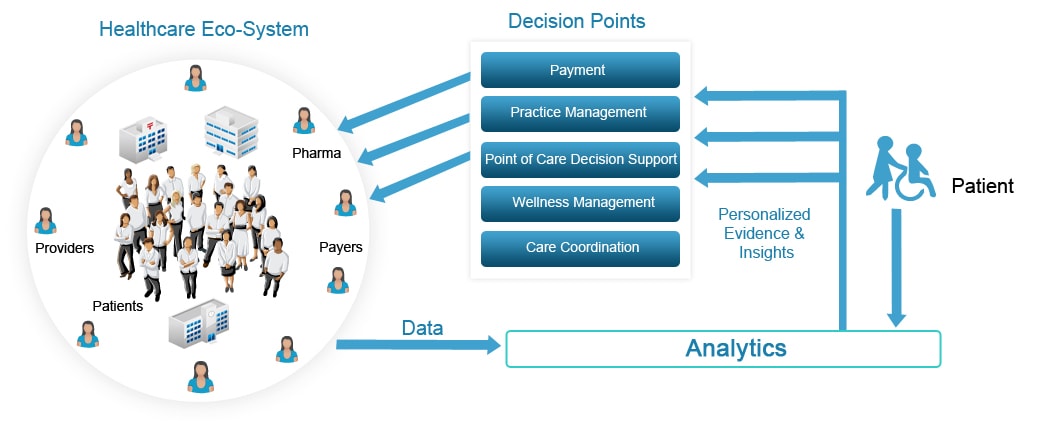 Here are a few of the many ways to use Medigy in your healthcare system:
Ensure availability of clinical and support data. When you use Medigy, you make data easily available for clinical, academic research and benchmarking tasks.
Reduce the rates of hospital acquired infections. Medigy can use the data collected at the point of care to perform real-time analysis to watch for early signs of infections and to prevent it from progressing. This can be used in pulmonolgy to prevent infections in the ICU and improving patient survival on ventilators. It can also be used in gastroentology and in neonatal units to prevent infections in the ICU.
Prevent setbacks caused by sepsis. Analyze real-time data from EHRs and other data sources to target high-risk sepsis patients. With this data, physicians can correctly predict septic shocks before any major organs dysfunction.
Prevent Hospital Readmissions. Use data to better understand why patients in your system are admitted back to the hospital. Then, use it to develop proactive care plans to prevent patients from returning.
Improve post-discharge medical care. Medigy enables you to develop customized care plans for patients before discharge, track symptoms and conduct early interventions as needed.
Medigy provides the platform, applications and services that you need to make use of your data to monitor and coordinate treatment of patients across different treatments, locations and healthcare systems
PGHD(Patient Generated Health Data)
Discover Hidden Value in Data Your Patients Provide
It's common knowledge: your company's structured and unstructured data provides value that you're are just beginning to extract. One source of this potential value is patient-generated healthcare data.

PGHD is data that's created, recorded, gathered or inferred by or from patients, family, personal caregivers or designees. It includes treatment data, health history, lifestyle choices, disease symptoms and even health and treatment history.

PGHD is not generated in clinical settings or in encounters with healthcare providers. But it still provides potent information because:

Patients, not physicians capture the data.
Patients decide how and with whom they want to share it.
Data provides continuous information, not just during hospital visits. This gives physicians a more accurate picture of how patients are doing between clinic visits.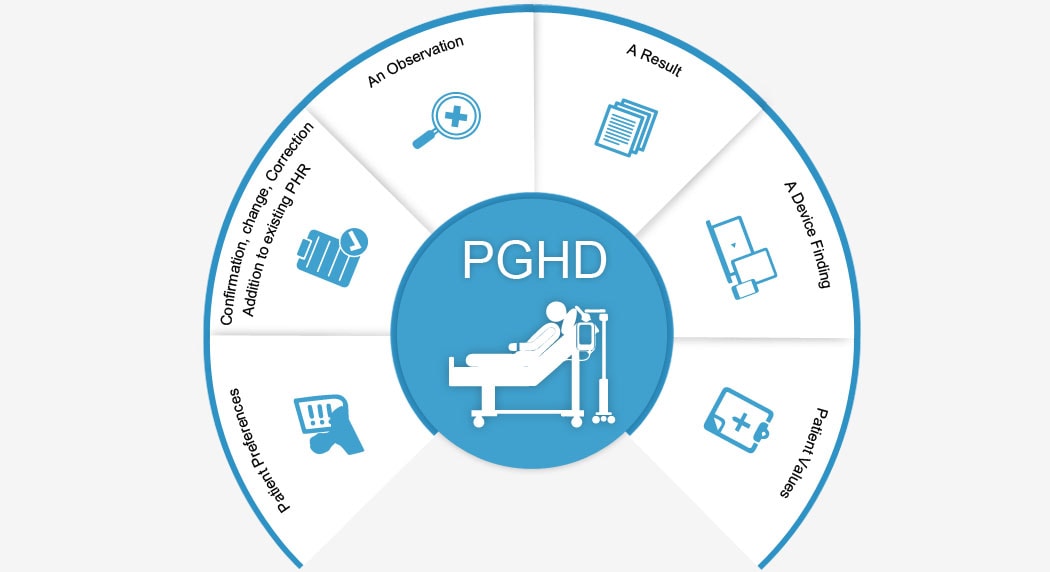 What's So Important About Patient-Generated Data?
Research shows that PGHD use reduces readmission rates, length of hospitalization stays, and healthcare costs.
The increasing use of self-monitoring devices by patients to improve their health is revolutionizing care. Patients can decide with whom to share their data. If they feel that it will be safe and can improve their care and reduce costs, they are usually willing it share it with their physicians. This provides healthcare professionals with data that was unavailable before. Hence, it gives them an opportunity to treat acute and chronic illnesses like never before.
Use Medigy in these applications of preventive and chronic care management:
Wellness and preventive care. Wellness or preventive care is not a high-priority activity. There is very little standardization for wellness metrics. Given the weak demand for preventive care, developers spend little time to create wellness or preventive care apps. But, with the advent of value-based healthcare, health systems must provide chronically ill and healthy patients with preventive care.

Medigy contributes to preventive care by predicting early signs of disease, constantly monitoring patient health and sending physician alerts when it detects abnormal values.

Academic research. When de-identified, PGHD can be used for academic research. It's used to study the occurrence of illness in sample populations, for people with specific conditions. Medigy takes the data collected from multiple sources, harmonizes it, de-identifies it and makes it available for research.

Healthcare risk management. By grouping patients into low-, rising- and high-risk populations, Medigy can analyze patient populations to provide physicians with data for patient education, guidance and treatment options.

Identify gaps. Medigy can compare PGHD with current data trends captured at various points of care. This method can help determine gaps in care and identify additional patient data that needs to be captured during hospital visits, physician encounters and clinic visits.
With increase in the number of pattern recognition tools over the past decade, it is now possible for converting radiological images into mineable data, called radiomic data, which can be further analyzed for decision support. Early on, images were merely treated as pictures and were interpreted visually. Radiomic data, combined with other kinds of patient data can be used for diagnostic and predictive analysis. Radiomic data is now emerging as a key factor playing a major role in Imaging Decision Support Systems (IDSS).
Netspective IDSS, which is a part of Netspective Medigy, provides a decision support system that gives doctors faster access to the information they need to make quicker, better and informed decisions, thereby providing quality and cost-effective care, resulting in healthier patients.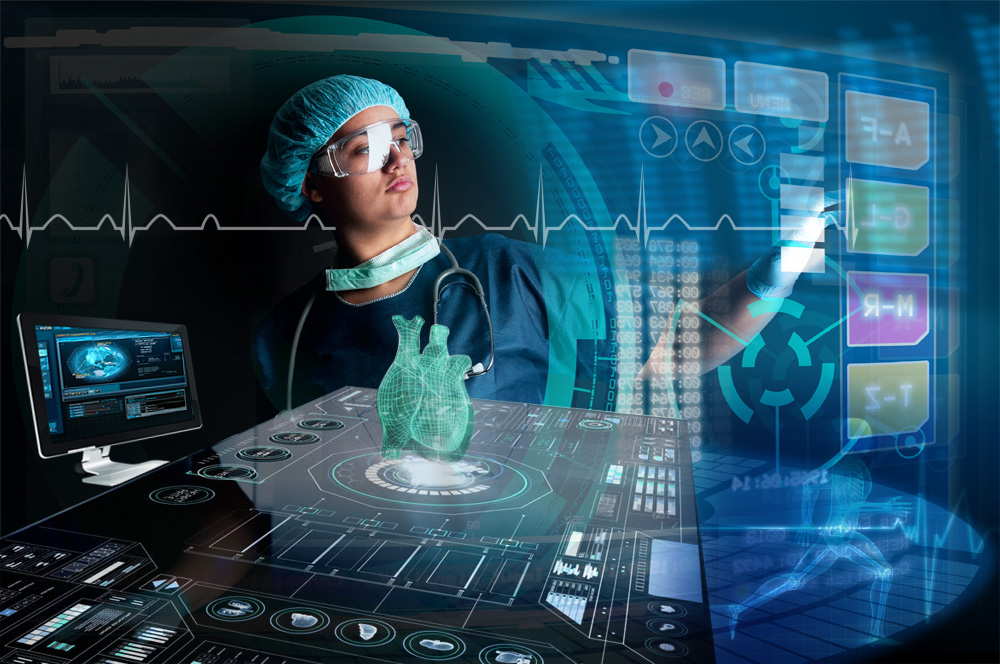 Netspective IDSS is used by radiologists, oncologists as well as researchers in the field of medicine.
Radiologists: Studies show that radiologists look at an image every 4 seconds. Netspective IDSS aids radiologists in their decision making process by providing valuable information and deep insights into radiomic data that not only makes their jobs easier and faster, but also reduces errors.

Oncologists: As knowledge and analytic tools have evolved, radiomics has been able to contribute a lot in the development of decision support systems for oncology. It is able to provide additional information on intensity, shape, size or volume of the tumor than which can be obtained from ordinary clinical reports or lab results. This data can then aid in cancer detection, predictive analysis and in personalized medicine.

Researchers: In addition to adding an element of speed to their research, Netspective IDSS provides researchers with tools that lets them analyze the images and get extremely infinitesimal details for their research thereby giving them access to a profusion of valuable data like never before.
Netspective is a leader in Technology and Consulting services in regulated markets - Healthcare, Government and Medical Technology.
Technology, consulting, and solutions focused on firms impacted by FDA, ONC, NIST or other safety, privacy, and security regulations.